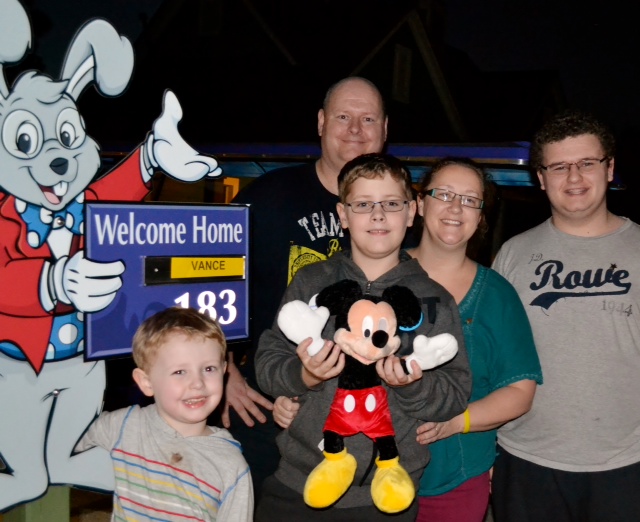 Bandanas for the Brave is a non-profit charity organisation run by Simon and Ellen Vance. They have three sons: Cameron, Todd and Carter and the charity draws its inspiration from their second son, Todd, who was diagnosed with a brain tumour in February 2010. After a long 92 weeks of chemotherapy, Todd's tumour is thankfully now stable.
When Todd started his chemotherapy, he was one of the 'lucky few' who did not lose his hair, but one year into the treatment and Todd suffered an anaphylactic shock which led to a change in treatment. His chemotherapy and drug regime changed and one big side effect to this was that Todd lost his hair. This is a major part of what had inspired the Vance family to try and help other children and families through this difficult period in their cancer journey.
Ellen has spoken of this time in their own family,
"When Todd lost his hair, it was absolutely devastating for him. It was so quick and I think that it's hard for the whole family to deal with: one day he had a full head of hair, over the next few days it was all gone. We were not prepared for this at all. Mentally, it was so hard – it was a wake-up call that, yes my son is really sick.""
This motivated the family into action: "What we are trying to do is simply prepare families by having a bandana at the ready. So much happens during this time, that it can easily slip parents' minds or they might not have the time to go out and buy something for their child as their first thought is to be beside their child and support them."
Ellen continues, "That's why it means so much for us to help other families. We looked for something that would look cool; keep their heads protected from the sun; and keep them warm when needed. We came across the company BUFF whose bandanas covered those important points so we contacted the company and asked if they would be interested in helping us. We explained our intentions and plans for the charity and they were delighted to help us and are committed to supporting us."
We have received positive responses from both the parents, children and the medical staff in many hospitals. This is a great step forward for us and we are grateful for the opportunity to help those who need us.

Until recently we raised the funds ourselves, but now as a registered charity we can go out and get support where we can and raise funds so that we can help as many children and young people in as possible.
If you can help in many ways, by getting involved, by donating financially or by giving your time please get in touch using the contact form.
Thank you.
The Vance Family